As the shutter clicks, freezing moments in time, we delve into Namibia's transformative strategy against the formidable New Zealand, set against the striking backdrop of Stadium de Toulouse on September 15.
Framing the New Lineup
Through the lens, the alterations in the starting XV become evident. Head coach Alister Coetzee orchestrates a calculated dance, integrating prop Jason Benade, flanker Prince Gaoseb, and center Le Roux Malan into the heart of the action.
Jason Benade
Torsten van Jaarsveld
Johan Coetzee
Johan Retief
Tjiuee Uanivi
Wian Conradie
Prince Gaoseb
Richard Hardwick
Damian Stevens
Tiaan Swanepoel
Divan Rossouw
Le Roux Malan
Johan Deysel (c)
Gerswin Mouton
Cliven Loubser
Louis van der Westhuizen
Desiderius Sethie
Haitembu Shifuka
PJ Van Lill
Adriaan Booysen
Max Katjijeko
Jacques Theron
JC Greyling
The atmosphere is electric as the much-anticipated match between Namibia and New Zealand unfolds at Stadium de Toulouse tonight. With both teams bringing their A-game, eyes are on three key players who promise to leave an indelible mark on the field: Jason Benade, Prince Gaoseb, and Le Roux Malan.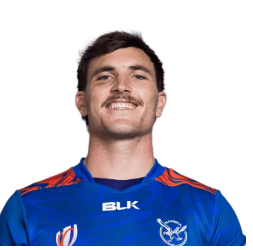 Jason Benade: The Wall of Namibia
As the whistle blows, the ground shakes with the sheer power and determination exuded by Namibia's prop, Jason Benade. At 1.88 meters tall and weighing a formidable 115 kilograms, he's a force to be reckoned with. His presence on the field is more than just physical – it's strategic. The loosehead prop, known for his exceptional scrummaging, forms a solid foundation for Namibia's forward pack.
Benade's impact is not just confined to set pieces. He's a dynamic player, quick to react and unyielding in defense. His game intelligence and precise execution make him a linchpin in Namibia's strategy against New Zealand's formidable lineup.
Prince Gaoseb: The Tactical Maestro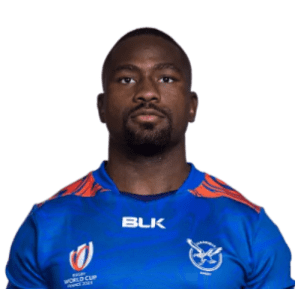 With every move, Prince Gaoseb showcases why he's considered one of the brightest talents in Namibian rugby. At just 25, he stands tall at 1.89 meters and weighs in at 105 kilograms. As a back row player, Gaoseb's adaptability is his greatest asset. Whether at Number 8, Openside Flanker, or Blindside Flanker, he brings a level of agility and tactical acumen that keeps opponents guessing.
Gaoseb's ability to read the game is nothing short of remarkable. His defensive prowess, combined with his knack for creating turnovers, disrupts the flow of even the most structured attacks. When he charges forward in attack, defenders are left scrambling to contain him. Prince Gaoseb is the embodiment of controlled chaos, and tonight, he's set to unleash it on New Zealand.
Le Roux Malan: The Artful Center
As the sun sets over Stadium de Toulouse, all eyes are on Le Roux Malan. At 24 years old, standing at an impressive 1.91 meters and weighing 100 kilograms, Malan is the epitome of a modern center. His journey from Natal Sharks to the New England Free Jacks has honed his skills, and tonight, he's ready to showcase them on the grand stage.
Malan's role as Inside Centre is more than just positional. He's a playmaker, threading the needle with precision passes and elusive runs. His defensive prowess is equally commendable, shutting down opposition attacks before they gain momentum. Watching Malan on the field is like witnessing a masterful symphony, each movement calculated and purposeful.
The Unbreakable Bond
These three players represent the heart and soul of Namibian rugby. Their distinct styles, combined with their unwavering dedication, form the backbone of the team. As they face off against the powerhouse that is New Zealand, they do so not as individuals, but as a united force.
In rugby, it's not just about the individual brilliance; it's about teamwork, trust, and sportsmanship. Benade's strength, Gaoseb's tactical finesse, and Malan's artistry are the pieces of a larger puzzle that Namibia has meticulously crafted.
Tonight, under the floodlights of Stadium de Toulouse, they stand as warriors, ready to give their all for the pride of their nation. Win or lose, their legacy as true ambassadors of Namibian rugby is already etched in the annals of the sport.
Here's to an unforgettable clash between titans. May the spirit of rugby shine bright tonight!